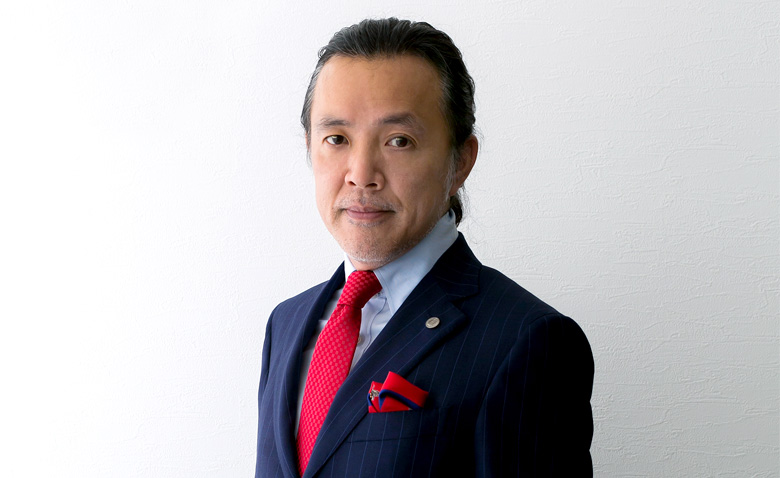 TOP MESSAGE
Founded in 2002, FFI Group operating with business vision of 'Contribute to The Happiness of People, Create A Spiritually Rich Society', has celebrated its 15th anniversary.
We are sincerely grateful of all the people whom we have been working with so far.
In 2015, FFI was positioned in the second development stage and started pushing forward new businesses and business grouping.
For health care business, developed countries including Japan are facing the problems of increasing medical care expenses and aging population. From the perspective of preventive medicine, anyone is able to maintain a healthy life expectancy and youthfulness through the intake of necessary nutrition every day instead of going to see a doctor. As a result, we have established a research laboratory Genetic Bio-Lab (Co.,Ltd.) inside the campus of Hokkaido University, where several prominent research institutes are situated at, to obtain the evidence for the effectiveness of the necessary nutrition distilled from the rich natural resources of Hokkaido.
Subsequently in 2017, we started the telecommunication business which includes communication methods that are indispensable in our daily life.
All these give us different kinds of emotions, 'Joy, Happiness, Sympathy, Courage, Hope', etc., that are required to connect each other in life.
In addition, in recent years, there are increasing number of people feeling lonely in their old age. Aging population is becoming a serious social problem for our country.
Hence, we started to low-priced mobile communication business to mitigate the financial burden for the communication tools required for solving this of loneliness.
Also, the era for IoT in which things will be interconnected is coming around.
We are thinking of providing services that are able to enrich our life in a new way and make our life more comfortable and convenient.
We, FFI Group, will never turn away from the problems, such as poverty, environment, conflict, education, inequality, aging and so on, that have to be solved by human. We target for a world full of peace, hope and dream that allow people to care for each other. We will keep challenging and carry our business forward to realize our business vision of 'Contribute to The Happiness Of People, Create A Spiritually Rich Society'.
Final Future International Co.,Ltd.
Representative Director Kazunobu Sakamoto